Christian Science Society, Nelson – Balfour
8551 Busk Road
Balfour, B.C. V0G 1C0
T: (250) 229-4527
Sunday Church Service
Our Sunday church services are held from 9:30 am until 10:30 am at St. Michaels and All Angels Anglican Church, and include a lesson sermon from the Bible and Science and Health with Key to the Scriptures by Mary Baker Eddy. Our service also includes time to join with the congregation in silent prayer and sing hymns filled with inspiration and comfort. You and your family are welcome to join us!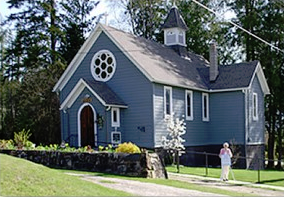 Sunday School
Our Sunday School is held at the same hour as our church service, from 9:30 am until 10:30 am, where we welcome children and young adults up to the age of 20. Students are taught basic lessons from the Bible, as well as how they can turn to a loving God for help and comfort. Children too young for Sunday School are lovingly cared for in our children's room. We'd love to have your family join us next Sunday!
Testimony Meetings
On the first Sunday of each month from 11:00 am to noon, we hold an informal testimony meeting located at 8646 Busk Rd, just two blocks south of the church. It's an inspiring and uplifting mid-week opportunity to draw closer to God and hear how others are using the lessons learned in Christian Science to help them solve life's challenges. Everyone is welcome to join us!
Reading Room and Sales (currently by appointment only)
(250) 229-4527
Mailing Address
8646 Busk Road
Balfour, B.C. V0G 1C0